Ovens are incredible appliances that can be used to cook a wide range of meals. Whether you are looking to bake a dessert or roast a turkey, your oven will have you covered. Today, the stainless steel Serie 8 HRG675BS1B from Bosch is also able to steam cook your food, the choice is in your hands. This built-in oven also has an A+ energy efficiency rating, saving you money on your energy bills in the long run.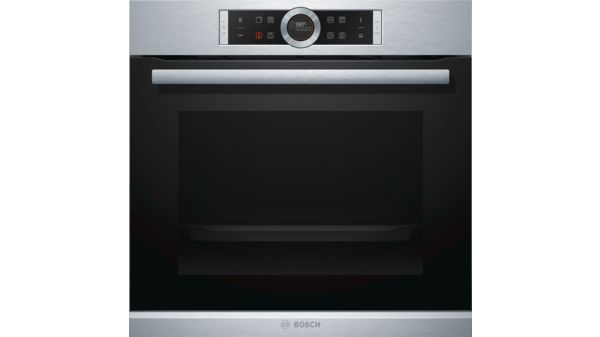 Steam Cooking
Steam cooking is a great way to add moisture to your cooking in order to prevent it drying out. If you enjoy baking as a hobby then having an oven that can steam your food is a great idea. The HRG675BS1B from Bosch makes it incredibly easy to bake bread with a crispy crust while still keeping the bread fluffy and soft inside. This is also perfect for a variety of desserts, simply fill the water container, and the steam function is controlled automatically. Buyers love the steam function as it helps transform cooking, making it simpler to create healthy, delicious meals at home.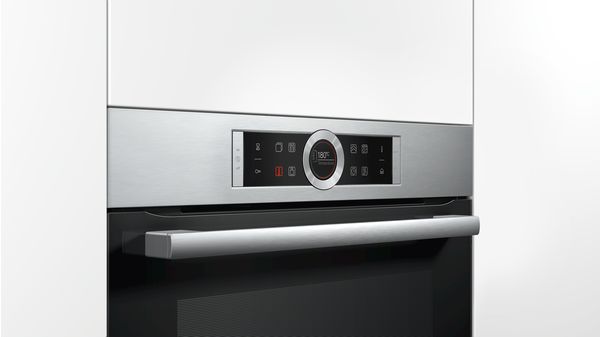 Autopilot 20
Consistency is key when choosing a cooking appliance for your home. With the AutoPilot 20 all of your dishes are cooked to absolute perfection. It's as simple as choosing from one of the 20 pre-set automatic programmes. Instead of spending time figuring out the perfect time and temperature settings for your dish, let your oven do it for you! All of these settings are incredibly easy to see with a TFT display control, with full text and symbols.

Easy To Clean
Cleaning your oven is just another chore that stops you from doing the things that you love. The Bosch HRG675BS1B Oven comes with pyrolytic self-cleaning technology. Simply select the self cleaning program, your oven will then heat up to a max of 480 °C. The heat will eliminate any grease or debris, any food that is left will easily wipe off. Saving you time and effort. Best of all, this method doesn't require you to use any cleaning products with chemicals.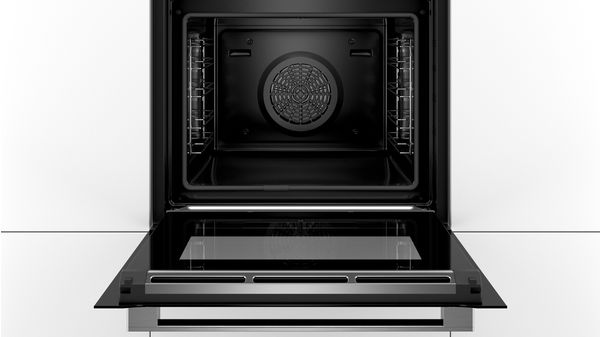 Consistent Heat Throughout
If you are looking for consistent heating across any and all cooking levels, then this is the right oven for you. 4D Hotair ensures that your food is heated, precisely and evenly. You even have the option to heat each level at a specific level. Meaning that you can bake and roast many different dishes to perfection. It will also stop flavours from mixing while cooking different dishes simultaneously. You also never have to wait around long for the oven to heat up, as the cavity will pre-heat rapidly to save you time.
With 13 different heating methods to choose from, including 4D Hotair, Hotair Gentle, conventional top and bottom heat, conventional heat Gentle, Hotair grilling, full width variable grill, half width grill, pizza function, bottom heat, low temperature cooking, defrost, plate warming and keep warm, cooking is no longer a chore, but a joy.
To learn more about the Bosch HRG675BS1B Oven, including all its features, visit our product page for full details and specifications. Order yours in store, by phone or online from Knowsley Domestics. Best price guaranteed. Collect in store, or opt for fast delivery and full installation from one of our trained installers, anywhere in Merseyside.