Keep your groceries fresh and rich in nutrients with the Bosch Serie 8 KIF82PF30 Fridge. This modern built-in fridge comes with an A++ energy efficiency rating and runs super quietly. Perfect for busy households.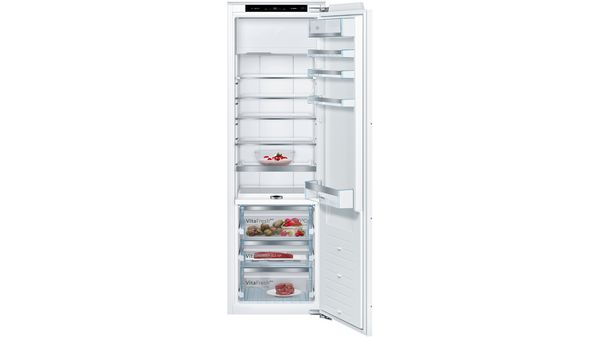 Food Stays Fresh Longer
With Bosch, lasting freshness is a priority. The KIF82PF30 is designed with helpful features to preserve the freshness and flavour of all your favourite foods.
Featuring three VitaFresh pro drawers, the KIF82PF30 provides the ideal storage conditions for your fruit, veg, fish and meat. The VitaFresh pro 0ºC drawer with humidity control is the optimal place for keeping fruit and veg fresh. And for keeping your fish and meat, the two 0ºC provide ample storage space. With VitaFresh pro, your food stays fresh up to three times as long as in a standard fridge. So, you'll save money and prevent food waste. As well as serving food that's fresh and rich in vitamins and nutrients.
The KIF82PF30 also comes with FreshSense. Clever sensors monitor and control the temperature inside the appliance, minimising any fluctuations. This is essential for locking in the natural goodness and freshness of your food.
Activate the fridge's SuperCooling function if you're heading out to the shops. The press of a button launches SuperCooling, dropping the temperature of the fridge. So that when you come to load fresh groceries, they'll chill quickly, without causing any of your other items to defrost. Keeping both new and old groceries fresh.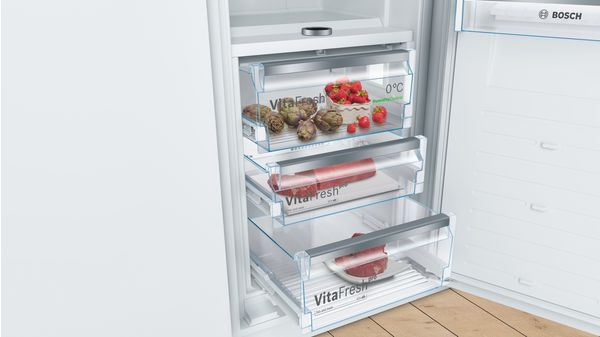 Plenty of Storage Space
Inside the 269L fridge you'll find six removable safety glass shelves, giving you a clear view of the fridge's contents. Five of the shelves come with a smooth pull out mechanism. So that accessing your groceries is simple and straightforward.
When storing tall or awkward shaped items, you'll love the handy VarioShelf. This clever shelf can be split into two sections, front and back, with the front section sliding easily underneath the back. Allowing you extra height for those big bottles, jugs and bowls.
For added storage space, the fridge also comes with five door trays, including a dedicated bottle balcony and dairy compartment. Comfortably store your milk, soft drinks and a bottle of wine or two. Plus your butter, cheeses and yoghurts with ease.
There's even a small freezer compartment at the top of the fridge, perfect for fitting in any overspill from your freezer. The freezer has a 15L capacity, which is enough space for a bag and a half of shopping.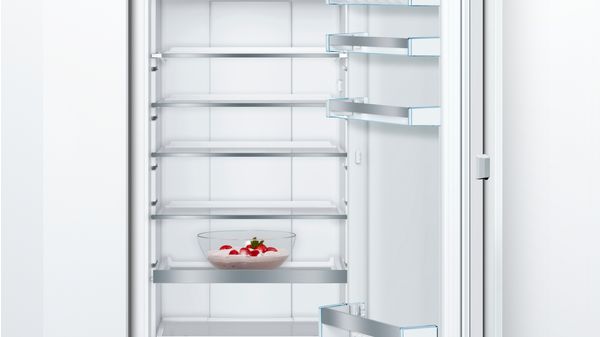 Easy Installation & Added Convenience
The KIF82PF30 is super easy to install, with a reversible door. So, you can put it almost anywhere in your kitchen. It comes with Premium LED lighting, which lasts the lifespan of the appliance. Giving you a clear view of your groceries, while using minimal energy. There's even an alarm to alert you should you accidentally leave the door open to prevent energy waste.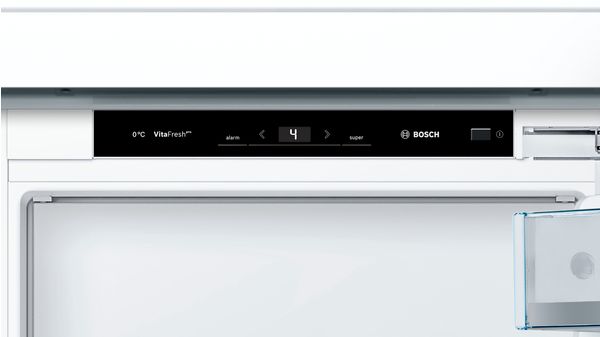 Enjoy huge savings on the Bosch KIF82PF30 Fridge when you buy with Knowsley Domestics. We guarantee the best price on all our Bosch appliances. Order online, in store or by phone for fast delivery across Merseyside or collect in store. Find out more by visiting our product page.