Breeze through your laundry with the Bosch Serie 6 WVH28424GB Washer Dryer. This freestanding appliance offers 7kg washing and 4kg drying capacity for your clothes, sheets and towels. With a maximum spin speed of 1400 rpm, this powerful machine is more than up to the task of taking care of your family's washing.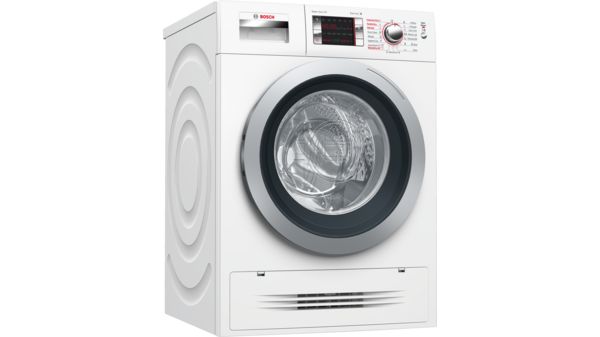 Taking Care of Your Clothes
With Bosch, you can be sure that your clothes will be properly taken care of. With special programs designed to protect delicate items and intelligent features that look after fabrics.
Take the HygieneCare program for example. By pretreating fabrics with a high drying temperature, then washing at 30ºC, you're stopping excessively high temperatures from potentially damaging your clothes. Plus, you'll be reducing unnecessary energy consumption.
AutoDry ensures your clothes reach your desired level of dryness, without risking overheating, over drying or shrinking. AutoDry monitors the temperature and moisture levels inside the drum, protecting clothes and preventing energy waste.
The machine's VarioSoft Drum uses a unique droplet shaped structure and asymmetrical paddles to ensure gentle, yet powerful cleaning. The paddles gently rotate clothes towards the centre of the drum, protecting the fabric and reducing creasing. You can choose a soft cycle or, for tougher stains, a more powerful cycle. Offering you added flexibility for your laundry routine.
Other specially designed programs that care for your laundry and save time and effort include Super Quick 15, Allergy+, Wool, Silk/Delicates and Wash & Dry 60'.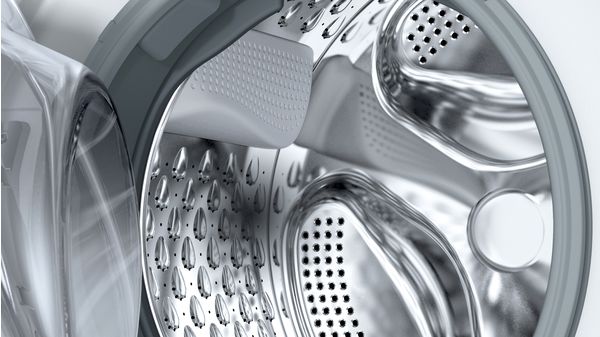 Efficient and Effective Performance
It can be tough to find a washer dryer that performs efficiently. The experts at Bosch have designed the WVH28424GB with several energy efficient features. Helping you experience a more streamlined laundry process, while still saving energy.
Featuring the Bosch EcoSilence Drive™, the frictionless energy efficient motor uses the lowest amount of energy possible, while still delivering great performance. It also runs super quietly and won't break down. The EcoSilence Drive™ comes with a 10 year Bosch warranty. So you can rest assured it won't let you down.
The machine's AirCondensation technology and ActiveWater system help cut down your laundry's water consumption. With air condensation drying and smart monitors that use only the necessary amount of water.
Not only will you save water, you'll also save time. Thanks to the EasyIroning setting with reduced creasing, you'll spend less time ironing and more time doing things you enjoy.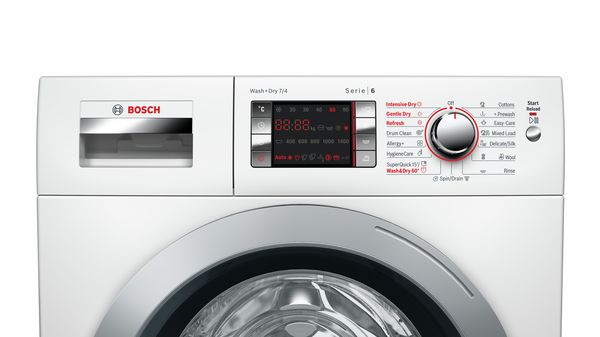 Built to Last
Bosch appliances are designed to last. The WVH28424GB comes with a handy DrumClean program to ensure each cycle is the best it can possibly be. Activate DrumClean to keep your washing machine in tip top condition.
The machine's AntiVibration design offers added stability, even at the height of the spin cycle, making it much quieter than your average washer dryer.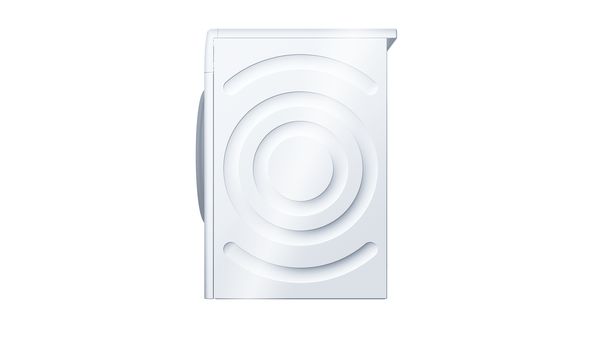 Helpful Features
The WVH28424GB is packed full of helpful features designed to make life easier. From the handy Refresh program for clothes that need a refresh and getting out the creases. To the Reload function that allows you to add in missed items during the cycle, without compromising on the quality.
There's a clear guide, with easy to use touch control buttons and a rotary dial. Plus a 24 hour time delay and child lock. And, to save you time and effort, the maintenance free condenser has automatic fluff removal. What more could you ask for?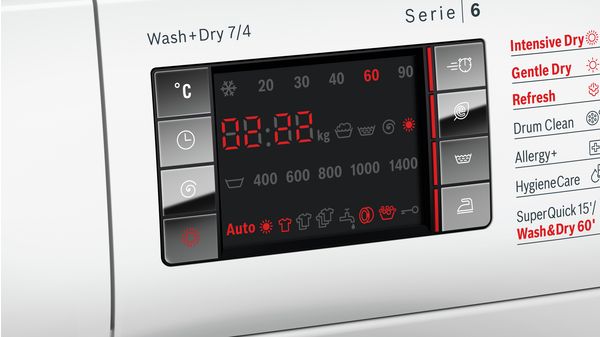 Order the Bosch WVH28424GB Washer Dryer online, in store or by phone from Knowsley Domestics. We offer fast delivery throughout Merseyside. We can even install it for you. Contact us today.